Musician's Bios
Wednesday, January 09, 2008
Zon del Barrio Members:
The following are the core Band Members who are: Zon Del Barrio.

Aurora Flores
Bandleader, composer, Lead and Coro Vocals.


Considered a 21st century Renaissance woman, Aurora Flores is a musician, writer, producer and activist. Raised in a musical family where her grandfather played plena and aguilnaldos on the accordion, her father wrote songs, her mother sang while her brother plays percussion she started as a classical musician playing violin, guitar and bass while singing in the school and church chorus before recording her first album at 15 with the Manhattan Borough Wide Orchestra as head of the bass section while studying bass privately with Frederic Zimmerman.

She went on to become the first Latina editor of Latin New York Magazine in 1974 later becoming the first female music correspondent for Billboard Magazine from 1976 to 1978. During this time she sang in the bands of Cortijo & Maelo y sus Cachimbos as well as a few local groups.

She attended the Columbia School of Journalism before breaking into mainstream journalism writing and reporting news for television, radio and print before starting a family and her own public relations agency, Aurora Communications, Inc in 1987.

With thousands of articles to her name, Aurora Flores organized her own septet in tribute to the music of Rafael Cortijo and Ismael Rivera called Zon del Barrio featuring some of her own original compositions.

Flores continues to write for various mainstream newspapers and magazines while teaching a Latin music history course and lecturing on the roots of the music.

A cultural consultant, she has written bilingual tunes for the hit children's show, Dora, the Explorer and conducts tours of East Harlem in a cultural, political and socio/economic content. She can be seen singing alongside Tito Puente in the Edward James Olmos Docudrama, Americanos, Latino Life in the U.S.; lecturing in the Bravo documentary, Palladium: When Mambo Was King and in the Smithsonian film accompanying the traveling exhibit: Latin-jazz, La Combinación Perfecta. Flores is currently working on a book based on her experiences in the Latino New York world.


David N. Fernandéz
Musical Director, Arranger, Keyboards, Latin percussion, Coro


Multi-instrumentalist, bandleader, musical director and arranger, David Fernandéz relies on his almost encyclopedic knowledge of the classics for his creative arrangements. He has performed with Marc Anthony, the Joe Cuba Sextet as well as Pedro Guzman, Angel "Cuco" Peña, Andy Montañez, El Topo, Ismael Miranda and Ismael Rivera, Jr. to name a few. His arrangements can be heard over the hit children's show, Dora The Explorer, as well as on Chembo Corniel's Latin jazz recording, "Portrait in Rhythms."

Born into a musical family in Bedford Stuyvesant in Brooklyn New York, David was a child prodigy who began playing bongos professionally at the age of nine. His father was a guitarist and singer with his own trio group, Los Bohemios while his older brother played trombone with various salsa bands of the 60s and 70s. David played bongos and timbales before studying piano and jazz arranging at 15. He performed with the Youngstown State University Jazz Ensemble under the direction of the late Anthony Leonardi. At the Youngstown State University of Ohio he studied jazz arranging with Sam D'Angelo. He returned to New York to study jazz piano with the late Jaki Byard later learning salsa piano and music production with Ricky Gonzalez.

Fernandéz redefined the "jibaro" bongo style of playing during his time with Pedro Guzman's Jibaro Jazz while defining the salsa style of percussion on congas and timbales.

After leading a 10-piece orchestra playing Latin music throughout Youngstown, Ohio and Pittsburgh, PA. while also playing with various other jazz artists including Bob Mintzer, John Faddis, and the late Nick Brignola, David Fernandez worked in Puerto Rico for six years before touring St. Croix as pianist with the r&b band "Tough Enough." Fernandéz returns to his native New York hometown where he is the musical director for Zon del Barrio and Brenda K. Starr.



Oreste Abrantes
Tumbadoras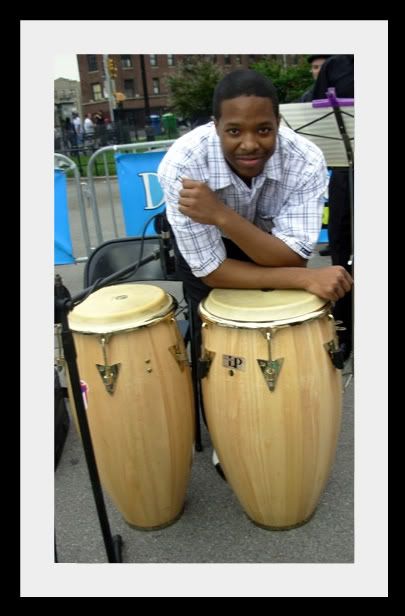 The "Monstrito" percussionist first started showing signs of his rhythmic virtuosity when he was still a baby boy. His mother recalls how he would beat rhythms and patterns on anything his little hands would touch. She started buying him toy drums, however, he rejected the toys and cried for real drums until she had to buy real percussion instruments for him to play on.

Oreste went on to devour every salsa music recording he got his hands on. By the time he was 5 years old, his mother entered him in a competition sponsored by Univision where he came in 2nd place, between two adults, playing congas. He takes his music seriously and has been studying percussion and music theory at the age of seven at the Harbor Conservatory for the Performing Arts in Spanish Harlem. He was part of a percussion trio of children who opened for Salsa singing giant, Gilberto Santa Rosa at Carnegie Hall when he was merely 9 years old. He appears on television playing alongside Tito Puente when he was eleven on an episode of Nickelodeon's Gula Gula Island. He is a part of Boys & Girls Harbor Youth Ensemble and appears in the PBS documentary "Mi Mambo". Today, Oreste proudly sits in the conga chair of Zon del Barrio. YEAH KIDD!





A Special tribute to the late, great, King of the cuatro guitar, YOMO TORO who performed with Zon del Barrio from our very beginning in 2003 & preformed his last recording over our single: Homenaje Al Sonero Mayor..


Yomo Toro
King of the Cuatro



Yomo Toro R.I.P.

Birth Name: Víctor Guillermo Toro Vega Ramos Rodríguez Acosta

July 26, 1933 – June 30, 2012

New York, NY – June 30, 2012 – After more than sixty years bringing the national instrument of Puerto Rico into prominence around the world, the internationally renown guitarist often referred to as the King of the Cuatro, Yomo Toro passed away peacefully on Saturday, June 30, 2012 at 11:40 pm after more than a month in a New York hospital due to kidney failure.

Surrounded in a spiritual embrace of love and music from his many family and friends who kept round the clock vigil over the fragile 78 year old musician, Yomo spent his final days in good cheer as if bidding farewell to the many family and friends who daily made music his medicine. Yomo Toro leaves behind his wife Minerva of 31 years of marriage, his first born daughter Denise Toro, sisters Lydia, Iris, Mirza, and Milagros Toro joined by five grand children: Miriam Olivera, Martin Olivera, Denise Pinedo, Tiffany Pinedo & Denise Patricia Velez and three great grandchildren: Shaun Donate, Cloe Rodriguez and Martin Olivera. His brothers Juan, Angel, and Arcangel Toro were also by his side.

>From the first twangs of his small ten stringed "cuatro" guitar hair raising moments ran through arms, backs and necks as the diminutive Yomo Toro vamped, arpegioed and soared through musical genres from his native Puerto Rican plenas, seis and bombas to salsa, jazz, and rock rounded by classical guitar and Flamenco music. The virtuoso interpreted eclectic styles through cherubic fingers that flew through frets before languishing on lengthy solos weaved on Spanish songs.

Born in Guánica, in the town of Ensenada, Puerto Rico he was surprised by his father Alberto, when the five year old used a box as a booster to get to the guitar hung on the wall. Instead of getting angry, his father asked the boy he nicknamed "Yermo" (pronounced yuer-mo) to get back on the box and keep playing. He did. When he looked up his father was weeping.

He moved audiences ever since. An ambassador of Puerto Rican culture Yomo Toro grew to have a six-decade career as one of the world's most respected Latin music players.

A noted guitarist, Toro's instrument of choice was the cuatro, a Puerto Rican 10-stringed instrument descended from the lute and later adapted double strings similar to the Spanish Valhala.

After first landing in New York in 1953 with his band, Los Cuatro Aces, Yomo embarked on a series of tours of the Caribbean while recording classic albums with cuatro masters Masso Rivera and Nieves Quintero aptly titled, "Los Tres Cuatros."

Yomo's dream of playing with the legendary Trio Los Panchos was realized here in the Big Apple in the early '60s. He recorded four albums with Los Panchos, including one featuring Eydie Gormé.

The "Yomo Toro Variety Show" over New York's Channel 41 had a decade long television run during the late '60s into the '70s that brought him to the attention of Jerry Masucci and Johnny Pacheco co-owners of the legendary Fania label where he eventually joined their world-famous showcase band, the Fania All-Stars. Especially noteworthy was the year 1969 when Yomo recorded the critically acclaimed salsa album "Tribute to Arsenio" with the Larry Harlow Orchestra.

When guitarist Roberto Garcia wanted Yomo to sub for him on a Christmas album Pacheco was recording with a new group, he asked Yomo to bring the popular electric guitar of the times, but, as Yomo tells the story, when he heard "Christmas" he grabbed his cuatro instead. When Hector LaVoe saw the instrument he immediately thought of his mentor and Yomo's friend the great folkloric singer Chuito de Bayamon before the pair compared popular songs of the season. Through Hector's musical expertise and Yomo's virtuosity the 1972 release of the classic Asalto Navideño with Willie Colon became a best-selling Fania classic.

In the '70s, '80s and '90s Toro's career careened like a freight train. He appeared on over 150 albums, recording more than 20 solo albums for Fania, Island, Rounder and Green Linnet Records. He returned to television and film, playing in commercials for several major international companies, over television shows the likes of "Sesame Street" and "The Ghost of Father Fohner" while working on the soundtracks for several films, including "Crossover Dreams" with Ruben Blades and Woody Allen's "Bananas."

Called "the Jimmy Hendrix of the cuatro," by the N.Y. Times, Yomo's rapid-fire riffs spanned many musical miles recording with Harry Belafonte, Paul Simon, Linda Rondstadt, Gloria Estefan and David Byrne. His image is captured in statutes erected in his honor in Japan and in his hometown of Guanica.

Through it all Yomo maintained a simple, almost Zen like existence living humbly among the people of the Bronx community he returned to after his globetrotting. Settling into the Tremont section of the Bronx in 1973 after a stint in Brooklyn Yomo performed at the White House with the same pride, vigor and enthusiasm he shared with his musical brothers during his yearly neighborhood get togethers at the Bronx Lebanon Hospital Center performing his last gig there in October of 2010. Among his peers Yomo was considered the humblest and happiest of artists personifying that exceptional "salt of the earth quality" a rarity in this urban society.

In 1994 Yomo began touring and recording with Larry Harlow's Latin Legends. Two years later he released the well-received "Celebremos Navidad" over Aché Records before hitting the road again in 1998 this time as part of David Gonzalez' off Broadway musical "Sofrito." Yomo's music is also heard over the hit children's television show "Dora the Explorer."

Jazz trombonist Roswell Rudd fell in love with Yomo's sound recording "El Espiritu Jibaro" with the funky jibaro in 2007 while Yomo's super sonic salsa and Boricua roots licks are heard over Aurora & Zon del Barrio's "Cortijo's Tribe" CD along with the single "Homenaje al Sonero Mayor" released in July of 2010 where Yomo soars on solos that let him stretch and expand his virtuosity on strings.

Yomo Toro R.I.P.

Victor Gillermo Toro Vega Ramos Rodriguez Acosta

26 de Julio del 1933 – 30 de Junio del 2012

New York, NY – June 30, 2012 –Por mas de sesenta años presento con prominencia el instrumento nacional de Puerto Rico, "el cuatro" al mundo entero. El guitarrista de renombre internacional reconocido como "El Rey del Cuatro" Yomo Toro paso de este mundo el 30 de junio del 2012 a las 11:40 pm después de estar internado en un hospital de Nueva York por mas de un mes por insuficiencia renal.

Rodeado en un abrazo espiritual de amor y música que sus familiares y amigos le mantuvieron a su entorno en vigilia las 24 horas, el músico de 78 años de edad, Yomo Toro es sobrevivido por su esposa Minerva casados por mas de 31 años , su primera hija Denise Toro, sus hermanas Irma, Iris, Mirza y Milagros Toro, juntos a sus cinco nietos: Miriam Olivera, Martin Olivera, Denise Pinedo, Tiffany Pinedo & Denise Patricia Vélez y los tres tataranietos: Shaun Donate, Cloe Rodriguez and Martin Olivera. Sus hermanos Juan, Angel y Arcangel Toro quienes también estaban a su lado.

Desde los primeros sonidos vibrantes de su pequeña guitarra de diez cuerdas, momentos que paran los pelos corrieron através de los brazos, espalda y cuello del publico cuando el diminutivo seductor musical Yomo Toro montuniaba y con sus solos rascaba los cielos con arpegios celestiales, sus deditos gorditos volando por géneros musicales como las plenas, seis, y bombas de su país natal Puerto Rico hasta la salsa, jazz, rock, guitarra clásica y flamenco. El virtuoso interpreto estilos eclécticos entre esas manos angelicales que através de largos solos recogía su trayectoria musical.

Nacido en el barrio Ensenada de Guanica, Puerto Rico a los cinco años Yomo utilizo una caja como un refuerzo para poder treparse para tocar la guitarra de su papa que colgaba en la pared. Fue sorprendido por su padre Alberto que, en lugar de enojarse, le pidió al niño apodado "Yermo" que volviera a la caja y siguiera tocando la guitarra. Lo hizo. Cuando levanto la vista su padre estaba llorando.

Desde ese entonces, Yomo ha emocionado a muchos al son de su guitarra prefreída "el cuatro", instrumento puertorriqueño de diez cuerdas descendiente del laúd y luego adaptadas a cuerdas dobles similar a la Valhala española. Como embajador de la cultura puertorriqueña Yomo Toro creció ha tener una carera de seis décadas conocido como uno de los músicos latinos mas respetado del mundo.

Después de aterrizar por primera vez a Nueva York en el 1953 con su banda "Los Cuatro Aces"
Yomo se embarco en una series de giras por el Caribe. Durante este tiempo fue que grabo el disco clásico con los maestros del cuatro Maso Rivera y Nieves Quintero apropiadamente titulado "Los Tres Cuatros"

Su sueño de tocar con el legendario Trío Los Panchos se realizo al principio de los años sesenta, donde Yomo grabo cuatro albunes con ellos y uno adonde canta Eyde Gorme.

El show de variedades de Yomo Toro por el canal 41 en Nueva York destaco muchos artistas y hizo un nombre para el joven cuatrista durante los años '60 al '70. Llamo la atención de Jerry Masucci y Johnny Pacheco co-propietarios del sello Fania y con el tiempo se unió como un importante parte de la Fania All Stars. El año 1969 fue especialmente notable cuando grabo su primer álbum de salsa "Tributo a Arsenio" con la Orquesta de Larry Harlow.

Fue llamado de nuevo por el guitarrista y compositor Roberto García para grabar un álbum de Navidad que Pacheco estaba grabando con un nuevo grupo. Roberto le pidió a Yomo que trajera su guitarra eléctrica, popular en esos tiempos, para sustituir por el. Pero, como Yomo cuenta la historia, cuando escucho la palabra "navidad", agarro su cuatro en su lugar. Cuando Hector Lavoe vio el instrumento inmediatamente pensó en su mentor y amigo de Yomo el gran cantante folclórico Chuito el de Bayamon y los dos empezaron a comparar los aguinaldos que ambos conocían. A través de este encuentro musical con Hector LaVoe y Yomo en el 1972 salio a luz el clásico "Asalto Navideño" con Willie Colon y Hector Lavoe el cual se convirtió en uno de los mas vendidos clásicos de la Fania.

En los años de los '70, '80 y '90 su carrera salio como un tren de carga. Yomo participo en mas de 150 albunes grabando 20 discos como solista para los sellos Fania, Isla, Rounder Records y Green Linnet. Volvió a la televisión y al cine para tocar en anuncios publicitarios para varias empresas internacionales, como por ejemplos para los programas de televisión tan conocimos como "Sesame Street" y "El Fantasma de Padre Fohner " mientras su música sonaba de varias películas incluyendo "Crossover Dreams" con Ruben Blades y "Bananas" de Woody Allen.

Llamado "El Jimmi Hendrix del Cuatro" por el New York Times, Yomo Toro se extendió a muchos ambientes de grabación musical con grandes como Harry Belafonte, Paul Simon, Linda Ronstadt, Gloria Estafan y David Byrne. Su imagen se captura en estatuas elegidas en su honor tanto en Japón como en su ciudad natal de Guanica.

A pesar de haber viajado el mundo entero, ser miembro de las "estrellas de Fania," y hacer películas, Yomo mantuvo una simple vida humildemente viviendo entre la gente de su barrio del Bronx adonde se instalo en la sección de Tremont desde el 1973, después de una temporada de haber residido en Brooklyn y en el Barrio. Yomo se presento en la Casa Blanca con el mismo orgullo, vigor y entusiasmo que compartía con sus hermanos musicales durante los bailes anuales en su barrio del Bronx en el Bronx Lebanon Hospital Center donde realizo su ultimo concierto en Octubre del 2010. Entre sus compañeros Yomo fue considerado el mas humilde entre los artistas que personificaba esa calidad extraordinaria de "alma de Dios", una rareza en esta sociedad urbana.

En el 1994 Yomo comenzó a viajar de nuevo y a grabar con las Leyendas Latinas de Larry Harlow. Dos años mas tarde lanzo uno de sus discos favoritos "Celebremos Navidad". Regresa en el 1998 esta vez como parte del musical de Off- Broadway de David González "Sofrito". La música de Yomo también se escucha en el programa popular de niños "Dora La Exploradora".

El trombonista de Jazz Roswell Rudd se enamoro de las cuerdas de Yomo y grabaron "El Espíritu Jibaro" en el 2007, mientras que el súper sonido de Yomo en la salsa tanto como su estilo único en la música jíbara de Puerto Rico se une en el críticamente aclamado disco debut de Zon del Barrio "La Tribu de Cortijo" seguido en el 2010 por el sencillo "Homenaje al Sonero Mayor" donde Yomo se escucha volando, innovando y estrechando su virtuosismo en la cuerdas de su querido cuatro.



###



the late Sammy Ayala
Singer/Songwriter
Original member of Cortijo y Su Combo



The most consistent figure on Puerto Rico's musical journey from folk to popular, Sammy Ayala, born Carlos Samuel Ayala Román February 17, 1933 in Santurce, has been an integral presence from Rafael Cortijo's Combo to Jesus Cepeda's Grupo ABC.

Currently in New York after a 30 year absence, Sammy Ayala is a member of New York's Zon del Barrio performing and recording three tunes on our debut cd: Cortijo's Tribe / La Tribu de Cortijo. Septegenarian Sammy Ayala interprets the music from Puerto Rico's golden age between the 50s and 60s when the percussion master, Rafael Cortijo blazed new musical as well as racial and economic trails appearing with his all black orchestra on Puerto Rican television, radio and film during 1954 until 1962.

In 1953, Cortijo's Combo was the first all-Black band to have band members book rooms at five-star tourist hotels. Featured as the house band for the Island's daily television variety show, Coritjo y Su Combo was the first all-black orchestra on television in the Americas 10 years before the Civil Rights Act was even signed into Congress in the U.S. Cortijo's innovations transformed the folkloric bomba, forming and becoming part of what has come to be known as salsa. Cortijo also raised the pay scale for percussionists, being the first to pay them at the same level as other musicians. He also freed musicians from the music stands displaying a dancing brass along with the vocal front line. Cortijo y su Combo defined a nation through music.

Ayala recalls those heddy days of 1954 when Cortijo's brother Gilberto, Sammy's compadre, recommended the young soldier, shipped home from Korea, to sing with the band that would change the sound of Latin music. Sammy was a baladeer having studied vocals and piano at "La Escuela Libre" in Santurce. Influenced by the music of Los Panchos and Bobby Capó. However, with Cortijo y su Combo, Sammy played güiro (scratching gourd), coro and established a signature falsetto "ah, ah, ah" prevalent throughout Cortijo recordings.

He traveled with Cortijo y su Combo throughout Aruba and Curazao alternating with calypso bands at Caribbean festivals where Sammy's "compradre," Ismael Rivera, would ocassionally sing in English. They went on to perform in New York, Chicago, Philadelphia, California, Connecticut, Panama, Dominican Republic, Venezuela and many more until 1962 when the group disbanded.

Cortijo's popularity came from his mixture of the Cuban dance montunos with the native Puertorican rhythms of plena and bomba. That mixed with the varied rhythms of guarachas, mozambique, samba, merengue, and boogalu, made Cortijo's sound an explosive, exhilarating experience that truly embraced the poetic concept of Puerto Rico and Cuba as two wings of one bird.

"I was at the band meeting in 1962 when it was decided to form another 'combo' away from Cortijo and I was the first one to abandon that idea." Sammy confesses. "It was not the time to do this when Cortijo had shared so much with us and created the platform for our success. I could not pay him back this way by turning my back on him when he needed us most."

Throughout Cortijo's manifestations, Ayala remained loyal to the percussive genius embracing Roberto Roena in 1959 when he replaced Roy Rosario. Sammy remained with Cortijo during the recording of "Los Internacionales" in 1962 when Rafa's Combo sported a new musical team, and Sammy joined Ismael Rivera and his Cachimbos in the mid 60s before returning to Rafael Cortijo y su Bonche during the '70s. Sammy Ayala stood firm alongside Cortijo until the Maestro's last recording, El Sueño del Maestro where Sammy records "second voice" on a bolero on the 1980 recording.

Meanwhile, Ayala has composed several hits such as "Lo Deje Llorando" interpreted by both Ismael Rivera and Hector LaVoe; "Dios Los Cría y Ellos Se Junta;" "Como Son Las Cosas" (bomba) and "Para Mi Gente" (plena) on the reunion record Juntos Otra Vez over the Coco label.

During Cortijo's turbulent times in 1962, Sammy returned to school studying accounting and receiving a vocational certificate before enlisting in the Merchant Marines. He formed his own quintet recording the hit tune "La Picua" before it was popularized by Marvin Santiago. Ayala then went on to sing with Pepito Anengue, Liselia Sanjurjo and Nacho Sanabria. By 1965, Ayala returned to Cortijo when the bandleader, with the help of Tito Puente, put together an orchestra and a recording, "Bienvenidos," to welcome Ismael Rivera who had just spent more than four years in a federal penetentiary in Lexington Kentucky.

Sammy Ayala left the music scene the following year in 1966 for the Merchant Marines travelling for two years before returning to Puerto Rico only to leave for New York and the music scene there. He joined the Gilberto Cruz Sextet where he is first recorded as a soloist on the Lp, "Yes I Will" in 1969 also featuring one of Ayala's bombas, "Trata de Querer," over Tico.

He joins the Joe Acosta Orchestra before getting the call from his compadre, Ismael Rivera to join his band, Los Cachimbos recording another one of his compositions: "Parece Que le Gusta" over Vaya Records. But Cortijo called him back to the Island where, by 1978, Ayala joins the maestro's "Bonche."

After a stint as a public servant for the Puerto Rico Lottery, Ayala forms Grupo Musical Bombazo 80 where his recording is filled with his own compositions featuring "Que He De Hacer," "Seguiré Mi Camino," "Cuide A La Comay" (bomba), "Señor Alcalde" (bomba), "Todo Cambio," "No Te Confundas," "Me Voy Queriéndote," among others.

By 1985, Sammy Ayala becomes a part of Jesus Cepeda's grupo ABC, (Arte Boricua Cultural) where he records "La Historia Se Repite," and "Amor de Mascarada" featuring two of Sammy's compositions "Que Lastima" and "Que He de Hacer."

On October 6, 1996, the 23rd Festival of Bomba & Plena is dedicated to the soft spoken singer. Ayala records two Cds the following year with Plenarium over Tropix Music Records where his catchy "Levántate Juana," is featured over the recording titled: Agúzate y Gózatelo: Navidad con Plenarium.

By 1998 "Los Hijos de los Celebres" is formed featuring the sons of Ismael Rivera, Andy Montañez, and Pellin Rodríguez singing one of Sammy's tunes: El Que lo Hereda No Lo Hurta."

Sammy Ayala has fathered four children: Carlos Samuel, Lourdes Caridad, Nayda Esther & Carlos Luís, and is immensely proud of his 13 grandchildren. Enjoying his golden years, Sammy Ayala is savoring the fruits of his numerous labors while drinking the milk of his music on the stage of life.