Press and Publicity
Friday, October 03, 2014

The King & I published Oct. 2, Hunter College Centro Journal




By Aurora Flores




I was on my way to interview Tito Puente, the King of Latin Music, and my first major assignment as a writer. I was excited, elated to have been picked for this project, and nervous, very nervous. Absentmindedly, I bit the last of what remained of my right thumbnail thinking of the many questions I had researched over the past few days as the #1 train pulled into my station. It was hard to see the stop from inside the bubble-art, graffiti-covered car, "Taki 183" tagged all over the windows. I already knew to get off three local stops after Seventy-Second Street. Climbing the stairs at the Fiftieth Street exit, I pulled the yellow piece of paper from my pocket: RMM Management, 1650 Broadway and Fifty-First.

Click on the link above to read the entire article here: bit.ly/1xGnRr1


Wednesday, September 04, 2013

WNET Latino American Series

"But this new combination of young Latinos playing with the iconic Yomo Toro was different. It spoon-fed us abuelita's words of wisdom while filling us with the joy of simple pleasures that some of us in New York only heard through the twang of Yomo Toro's cuatro singing through Hector's words. Yomo made them famous."

WNET Latino American Series:

Click here to read the entire blog & leave a comment: http://www.pbs.org/latino-americans/en/blog/2013/09/03/Boricua-Christmas-New-York/

aurora flores wrote:

"The Borscht Belt had a Spanish heart," recalls Larry Harlow. "It was nothing short of a 'Latin music Mecca'."

My blog on Latino Jewish identity is up over the WNET website on the history of Latinos in America... check it out:

http://www.pbs.org/latino-americans/en/blog/2013/08/31/Jewish-Latino/

Aurora Flores
www.zondelbarrio.com
Music from the Streets of Latin N.Y. Streets of Latin N.Y.


Monday, August 05, 2013

In the NY Times

Mi Bandera me lleva, Mi bandera me trae, Mi Bandera me lleva a la tierra del Le Lo Lei... New York Times: My flag takes me, my flag brings me back, my flag takes me to the land of happiness...

Click here to read the article re: the tribute we did for Yomo Toro on his street naming ceremony in the Bronx: Yomo Toro Place.
http://cityroom.blogs.nytimes.com/2013/07/28/in-the-bronx-honoring-a-virtuoso-of-latin-music/

Then check out the rest of the coverage here:
NY1: http://www.ny1.com/content/186218/highbridge-corner-named-in-honor-of-the-king-of-the-cuatro


News 12 covering the Yomo Toro Street: Watch the video, click on the link....
http://bronx.news12.com/news/bronx-street-renamed-for-puerto-rican-music-pioneer-yomo-toro-1.5781120#comments

Primera Hora:
http://www.primerahora.com/entretenimiento/musica/nota/yomotorotendrasucalleennuevayork-940314/

http://presenciapr.com/designan-calle-del-bronx-con-el-nombre-de-yomo-toro/

El Diario:
http://www.eldiariony.com/rey-del-cuatro-yomo-toro-calle-el-bronx

Articulo de EFE

http://www.eldiariony.com/calle-bronx-yomo-toro


Saturday, January 05, 2013

In the Daily News

Click on this link to read... A Tribute Fit for a King... Yomo Toro

http://www.nydailynews.com/new-york/tribute-fit-king-article-1.1231872#commentpostform


Friday, September 21, 2012

Aurora Flores: Latinas in Music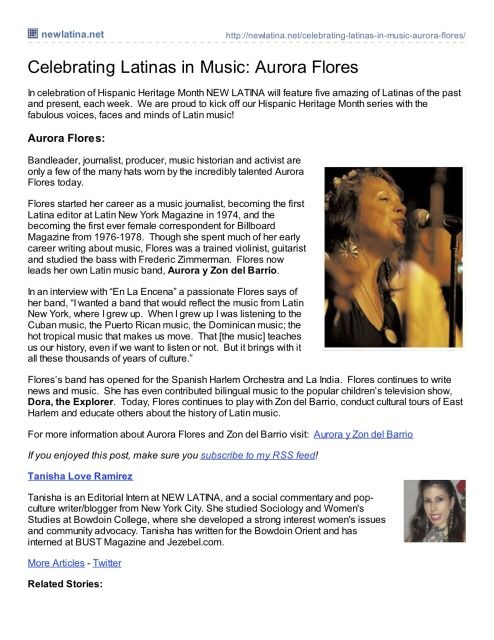 Monday, September 17, 2012
Article from Telerama in France
Click here:

http://sortir.telerama.fr/concerts/new-york,91009.php

Barrio caliente

A l'est de Harlem, c'est encore Harlem, mais à la sauce hispanique. Un quartier qui abrite la plus grande communauté de la diaspora caribéenne, essentiellement portoricaine. « Le barrio, c'est Salsa Nation ! clame la pétulante chanteuse Aurora Flores. On oublie souvent que c'est ici que se sont mélangés, dans les années 70, les ingrédients de cette musique de l'exil, germée dans la pauvreté et qui célèbre la vie. » Cette ancienne journaliste, qui a « grandi en écoutant Tito Puente, Janis Joplin et Santana », est l'une des rares femmes leaders d'un orchestre de salsa. Bomba, plena, boogaloo, salsa dura… Avec le survolté Zon del Barrio, groupe mixte et multigénérationnel, elle veut, à son tour, « transmettre cet héritage à la jeune génération ».

Sunday, May 06, 2012
DAY ONE: The Commercial for Prudential. Take a Look.
Sunday, December 11, 2011
France Antilles link w/ a short video on ZDB in Guadeloupe...
http://www.guadeloupe.franceantilles.fr/actualite/culture-et-patrimoine/chocolate-sublime-lakasa-05-12-2011-148886.php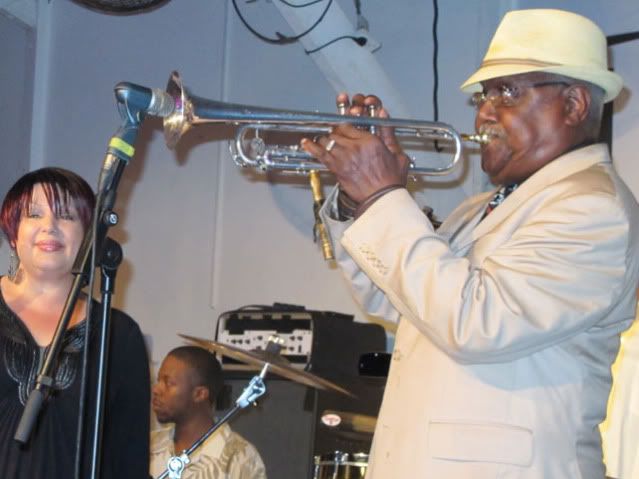 The legendary Afro-Cuban trumpeter Alfredo "Chocolate" Armenteros as guest artist to Zon del Barrio playing a concert at LaKasa in Guadeloupe, an island in the French Caribbean... Maryann Santiago & Oreste Abrantes look on. Go on the link & click on the black frame below for a short video on the concert.

Sunday, September 18, 2011
Latest Videos



27CDB6E-AE6D-11cf-96B8-444553540000" width="434" height="326">

Tuesday, November 23, 2010

Lecture on the Harlem Renaissance & East Harlem History, Culture & Music

To view the presentations of Colgate University's "Harlem Renaissance & East Harlem Music, Culture & History" see this link: http://www.ustream.tv/recorded/11008827

As the second speaker at this Diversity Conference, I gave a brief overview on the streets of Spanish Harlem & its rich history that dates back to the 1890s in New York City stretching back throughout the Great Antilles & Spain (Iberia).

Aurora

To schedule a tour of East Harlem just email us at:
aurora@aurora-communications.com or call: 212.876.1936